Congratuations
Terry Schweigert
and
DTM Racing
Schweigert Breaks Track Record, Rolls To Round 1 PXM Victory In Qatar
DOHA, QATAR (December 4, 2010) - Terry Schweigert was so close so many times in 2010,
finishing as a runner-up in four different Pro Extreme Motorcycle races in the American Drag Racing
League (ADRL). After Friday, Schweigert likes this side of the winner's circle much better.
In Round One of the Arabian Drag Racing League at Qatar Race Club, Schweigert was impressive,
breaking into the win column by running a 4.14 in the finals to soak in the spoils of his first championship
moment in either the ADRL or the Arabian Series. "This is just incredible. What an awesome experience,"
said Schweigert, who finished second in points in the ADRL in 2010. "This is just unbelievable. It hasn't
really sunk in yet. "We're just sitting in our room looking at the trophy on our mantle. This trip is already worth it."
Seven races remain in the Arabian series that runs through February, but Schweigert is already beaming after just one week.


Congratulations to
Ron Procopio
and his team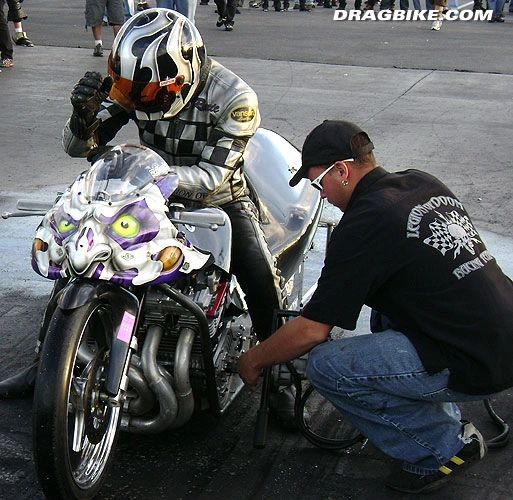 Ron Procopio takes it all at the Valdosta Manufacturers Cup Finals
The winner might as well have been on a PRO ET bike with a 4.11 dial in. Ronald Procopio
ran a 4.115, 4.112, 4.116 and a 4.115 to take the championship.
While I was standing at the line after his semi final pass I overheard someone say,
"That bike is definitely consistent." The other person he was talking to replied,
"I didn't think anything was consistent on a Pro Mod."
Ron is running his brand new 2010 Joe's Race Bike Chassis

Joe's Race Bikes and C&W Cycleworks have been building chassis since April 2003

Call Joe for all your chassis needs

Joe's Race Bikes

Cape Coral, FL 33909

joe@joesracebikes.com